Bus Tracker & Alerts
December 22, 2022
Athol/Orange Shuttle Schedule: Effective Dec. 22, 2022
Athol-Orange Bus Route Schedule Final.December 2022
Turn-by-turn has been updated.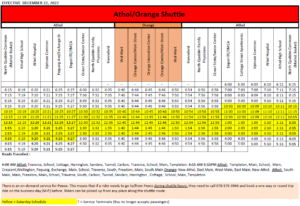 ---
September 21, 2022
Wi-Fi on board Fixed-Route Buses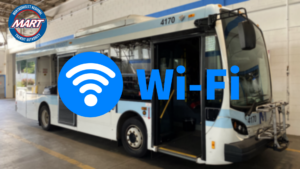 MART is excited to announce that we now have free Wi-Fi on board all fixed-route buses!
To get started using our MART's Wi-Fi, select the "MART Rider" Wi-Fi on your personal device. You will then be presented with MART's terms and conditions in which you can confirm that you have read and agree in this seamless one-time process. And then you are good to go. It is that easy!
The new MART is adding many new amenities to improve our riders experience on our buses to make your travel time with us more enjoyable. Implementing Wi-Fi is just the start. We look forward to you experiencing the new MART and fulfilling our mission statement, "To serve people by getting them where they need to go to lead their lives."
---